Case Study - Striver
Role
Product Designer
---
Constraints
10 Weeks
---
Project Type
Academic
---
Project Goal
Striver
is a mobile Life Coaching application for users who are making strides in the right direction that can't help but think -
I know I am capable of more, but I'm stuck.
Striver brings personalized suggestions for coaches, tracks your journey and helps you strive for more by keeping all content and communication within the app.
---
Introduction

With Striver, an individual sets a goal, develops a plan of action (through consultation with a coach) monitors their performance (through self-reflection) and evaluates their performance by comparison to a standard (gaining insight). Based on this evaluation changes their actions to further enhance performance and better reach their goals.
Throughout the past 3 years I have consistently felt like I wasn't where I'd thought I'd be. I was working a great job in a booming industry with lots of opportunity for growth, but something was missing. I did all of the right things, I excercised ran and rode my road bike, but just didn't feel like I was getting anywhere. Career and personal goals were intertwined.
I know I can achieve more though I can't help but think how?

I found a lifecoach through a brilliant application that made it super easy -this was the stride I needed to make, I was on the right path, I just needed a guide to show me the way. From here I found myself assessing everything, finding the middle ground for my way through - but I couldn't help but wonder, if this application had a more personalized feel for each user would each user stay for longer?
---
How might we
help connect individuals with an unbiased resource in order to unlock their potential, achieve their goals and help them grow?
---
---
Key Themes from interviews
Exploring what impact percieved self-image has on potential
1 - Inconsistency
Habit stacking = cascading failure

2 - Accountability
Struggling with social construct of perfection

3 - Blending goals
Life and career goals so intertwined hard to establish which is which. One built structure out of habits for inconsistent schedule, one struggled with structured schedule and inconsistent habits

4 - Tomorrow
Impact from today's actions affecting tomorrows habitual patterns.

5 - Reminders
Cue for habits is generally non-determinate; understanding triggers vary from making lists to the weather outside

---
Insights

Accountability was the most significant theme; self-perceived well being and self-evaluation are restricting factors for career and personal goal attainment and development.
---
Refined problem space
How Might We
How might we
democratize coaching for driven, professional millennials in order to help them continue on the right path to achieve their goals, build self-efficacy and grow?
---
---
Refinement


I developed primary and secondary personas, made experience maps, journey maps, took personality tests, had users take personality tests on and on and on. I explored all avenues, some worked, some didn't, in order to ensure my persona was built around my key findings from my 1st hand interviews.
My exploration into first hand research allowed me to understand what people actually want.
I came into this problem space with a solution in mind, through my primary research and iterative testing, I've found that I was wrong. My intial solution was self-prescribed, developed solely for an avenue I found on my own. My exploration into first hand research allowed for me to understand what people actually want and what they would actually look for in a digital product.
The ability to see what has been achieved over time. This would combat the cascading failure that was apparent in the interviewees current practice, starting with where the users are at right now.


Someone to hold the users accountable 1 on 1 coaching would ensure each user is held to their highest standards, whatever that is.


Somewhere to read, listen, understand - somewhere to self-evaluate. The home to all content related to your call with your coach - this would ensure ease of access and ensure the ability to pick up where you left off, thinking about tomorrow today.
---
Design


Moving from research to design, I began with a user task flow. The chosen task showcases the unique intake flow which allows for peronalized results based on the input content.



I feel keeping the flow simple allows room for strong visual identity
I feel showcasing the intake form, users will understand the goals of the application, the aim is to showcase the depth of the application through its simplicity and visual identity.
---
User testing a product really showcases its capabilities as well as its shortfalls.
Moving forward from the user task flow, I started to explore what this could look like. I started with paper, from there to digital, utilizing Figma's prototyping capabilities. Before moving forward with each iteration I had actual users test the prototype, give feedback, then translate all feedback into my next iteration.

Through version 1 - 5 I learned so much about how people naturally use a product. Testing a product really showcases its capabilities as well as its shortfalls. My assumptions of what my work did only hindered my ability to communicate the users needs. I needed to listen to what the users said, watch what they did and implement all of it.
Aesthetic Design

Moving into colourizing the application I knew I needed to continue looking at the brand identity; something playful but approachable, something relatable but down to earth and still communicative?
Looking at the brand identity; something playful but approachable, something relatable but down to earth and still communicative?

Taking what I'd learned from my interviews, people are looking for something that fits into what they currently do. No one wants a full upheaval, how can we make something that is more communicative than assumptive? More warm than apathetic?
This thought gave me a good starting point, something warm and communicative, inviting and playful.
Design Iterations


Taking my learnings from user testing and applying it to each evolving iteration made for a better user experience all the way through. The intial testing allowed for me to explore alternate ideas - how much can I reduce this? How far can I stretch this?




I came to the name striver naturally, I was looking for a better term for someone looking for guidance from a coach that was already on the right path. Something inspiring yet approachable, meaningful and memorable. I found that striver really brought up a lot of different visuals for me, either 2 ways it could go, down the gatorade style, bold and fast with intensity, or I could work to soften it and make it feel aspirational and apporachable (I went with the latter).






Either 2 ways it could go, down the gatorade style, bold and fast with intensity, or I could work to soften it and make it feel aspirational and approachable (I went with the latter).





Looking at the ideation of the logo, I looked to strong wordmarks (think Ironman triathalon) you have a 2 part meaning with a single letter, Ironman the word is denoted and the shape of the figure that is taken from that. I looked at the implied animation of the Herb Lubalin designed PBS logos and that really struck a cord.
---
Final Prototype


I am satisfied with my final product. I had many iterations that helped restructure the final product which allowed for so many learning experiences, all of which were guided by first hand user testing.

Going forward, I would take time to build out the 'journey' section where it would house activities, synced from wearable devices (think sleep data, strava, garmin connect, apple health etc.) which would bring the information to the coach allowing for a seamless transition during your call.

Considering the future of the users, assuming they stick with the program, we can see growth toward any goals the user may have put forth. This also implies that the user base will rotate, as users gain traction towards goals, they will stop using the service and that is good. I think understanding that users will come and go is very beneficial through the design process, this ensures focus on both ends, for experienced and new users.




Click or swipe to show the next image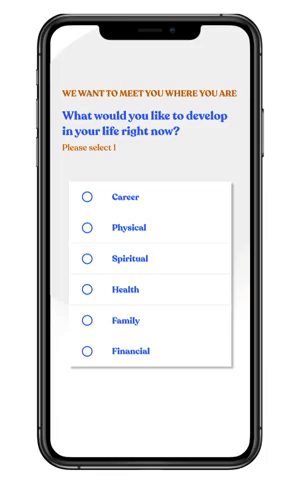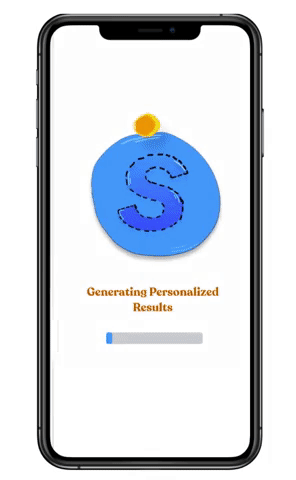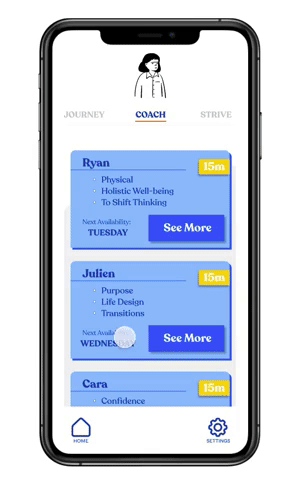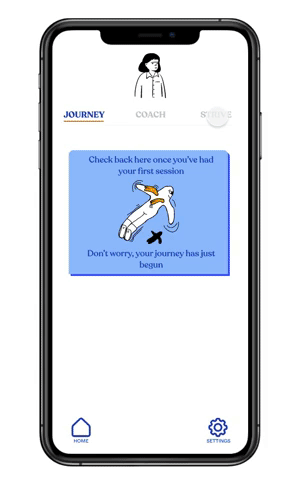 ---